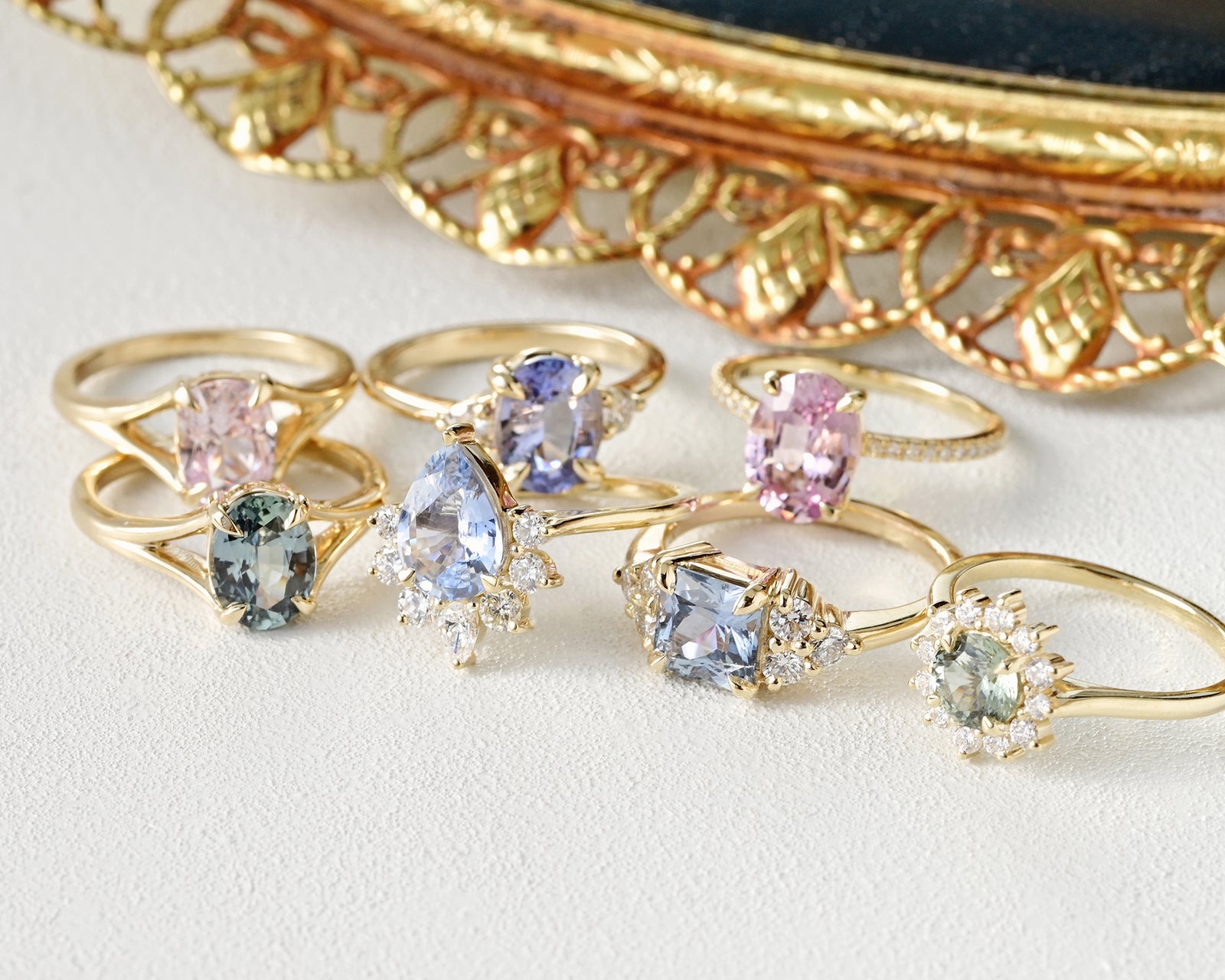 5 Stones to Avoid in an Engagement Ring (And What to Buy Instead!)
We're often asked why we use some stones and not others. We always strive to make jewelry that isn't just beautiful - it's meant to last a lifetime. Read on to learn about how we decide what stones lend themselves best to becoming future heirlooms. 
While there are many gems that would be gorgeous in an engagement ring, only a handful of stones are traditionally used for jewelry because they're strong enough for day-to-day wear. A poorly chosen center stone stands a higher chance of being damaged—or worse, destroyed—and perhaps sooner than you'd think. This is where knowing about the Mohs scale is handy.
What is the Mohs Scale?
The Mohs scale lists a mineral's hardness by ranking it on an exponential scale of 1 to 10, where 1 is the softest and 10 is the hardest. "Hardness" in this context refers to the ability of a stone to be scratched by something else. If you've ever wondered why diamonds are the go-to stone for the majority of engagement rings, the Mohs scale sheds light on why: diamonds rank at the top, 10. This means that nothing can scratch a diamond other than another diamond. By contrast, pearls rank at 2.5 (which is the same as a fingernail!)
Since engagement rings are meant to last a lifetime (or even many generations) this is where the issue of deviating from diamonds comes in. Most stones fall below our recommended hardness of 9 or higher. Anything below will accrue damage over time, often through activities you may not be aware are harmful: reaching into your pocket, opening your car door, brushing against the kitchen counter, and more.
We want to ensure you have a gemstone that is durable and will remain safely in its setting for decades to come, so that's why we recommend against soft gems. Read on for some specific examples. 
Moonstone & Opal
Mohs rank: 5 to 6.5
Prized for their ethereal elegance, moonstone and opal stones glow with so much beauty. Unfortunately, both stones are incredibly soft and will definitely scratch, crumble, or cleave if you hit them just right. It's not uncommon to have a vintage opal ring in your family and if you do, wear it with extreme care as it's existence throughout generations is a testament the great care that has been taken by the wearer. 
If you've had your heart set on a moonstone or opal for your engagement ring, we can help you find an alternative. Figure out which quality of these stones it is that you love. Is it the silvery shine of the moonstone? The dancing play of light within an opal? The cabochon cut?
Once you know what it is you like about these gems, you may be surprised by your options. For instance, many diamonds have these features—and with exceptional durability, too.
Quartz (including Amethyst)
Mohs rank: 7
The Quartz family comes in many hues including browns, greens, and purples (Amethyst). Unfortunately since they rank as a 7 on the scale of hardness, these stones are ill-suited for engagement rings due to their softness. While beautiful, quartz center stones are likely to scratch or fall out of prongs.
We suggest sapphire if you want a colored stone in your engagement ring and better yet, diamonds are far more durable and have a far more intense, radiant sparkle.
Aquamarine & Morganite
Mohs rank: 7.5 to 8
Members of the Beryl family, Morganite and Aquamarine offer lovely peach and baby blue hues but this sensitive stone isn't hardy enough for daily wear as an engagement ring without scratching. This gem family is likely to take damage over time due to its softness, so we don't recommend it for engagement rings.
Instead, we suggest sapphire in its place. Although most commonly associated with blue, sapphire comes in a range of hues—including that warm, peachy-pink shade as well as light sky blue tones. Sapphire also offers better durability, so you get the same beautiful color but in a gemstone that will last far longer than aquamarine or morganite. 
Moissanite & Colored Gemstones in Pavé Bands
Due to our repeated experiences with smaller cuts of moissanite and other gemstones chipping, we offer only diamonds for pavé styles.
Your engagement should be perfect in every way, and this starts with choosing a ring and stone that fits into your budget and that will stand the test of time.
We would love to help you get started on this journey. Send an email to hello@valeriemadison.com or call (206) 395-6359.